Essex Farm
Essex Farm offers a horse-powered, full diet, year round, free choice CSA membership based share, both locally and in New York City.
518.963.4613
KZ Farm
KZ Farm is in the more nascent stage of small farm evolution with big ideas, a new farm, and a taco truck.
518.837.1148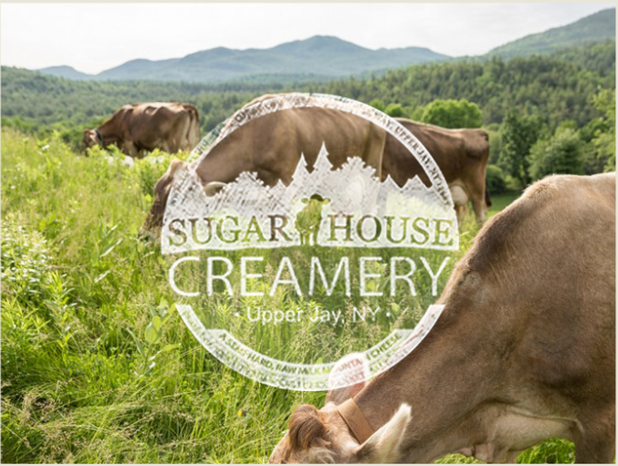 Sugar House Creamery
Upper Jay, NY
Sugar House Creamery is a raw milk dairy and farmstead creamery tucked away in the high peaks of New York State's Adirondack Park. Small by design, they dedicate themselves to the preservation of milk and the production of a food worthy of its ingredients.
518.300.0626
Juniper Hill Farm
Juniper Hill Farm is a certified organic, diversified vegetable operation, specializing in season extension, specialty crops, and high-quality produce.
518.524.5652
Farmstead Catering
Essex, NY
Farmstead Catering offers flavorful, sustainable, farm fresh, seasonal event menu, whose ingredients are grown and raised with their clients in mind—from seed to plate on Echo Farm.
518.265.8570
Tangleroot Farm
Essex, NY
Tangleroot Farm is a twenty acre diversified vegetable farm, bordering the pristine Bouquet River. Their intensive vegetable plantings feed over 75 families through a 21 week CSA program.
(518) 496-5673 or (518) 929-0300
Fledging Crow Farm
Keeseville, NY
Fledging Crow is a thriving first generation farm in the Adirondack Park of Northern New York. The farm is known for its unbelievably flavorful gourmet and specialty salad mixes, as well as a variety of diversified vegetables.
518.834.5012
Full and By Farm
Essex, NY
Their farm work is centered on the use of draft horses for vegetable cultivation and haymaking. Full and By Farm celebrates individuality by offering fully customizable CSA shares with vegetables, meats or eggs in a variety of quantities.
518.963.7127
Harvest Hill Farm
Willsboro, NY
Harvest Hill Farm is a small diversified family farm, embodying a homegrown approach within their intimate scale and deep reverence for holistic relationships. Their vegetables, fruit, herbs, flowers, honey, soap and lip balm are sold through their farm stand at Dogwood Bread Company.
518.963.1127
North Country Creamery
Keeseville, NY
North Country Creamery is a 100% grassfed, Non-GMO, & Animal Welfare Approved dairy in Keeseville, NY. With their herd of Milking Shorthorn and Jersey cows, they produce an array of farmstead cheeses, creamline yogurts, and raw milk, using limited ingredients, including cultures, local herbs, maple syrup & organic extracts -- no added colors or stabilizers.
518.645.2697
Reber Rock Farm
Essex, NY
Reber Rock Farm is an 120-acre draft powered farm on the southern edge of the Reber Valley in Essex, NY. These products are available for sale year round in our Farm Store. Custom Meats can be ordered in the spring for delivery in the Fall.
518.572.7377
Mace Chasm Farm
Keeseville, NY
At Mace Chasm Farm, Courtney Grimes Sutton and Asa Thomas-Train raise livestock -- grass-fed beef and sheep, pastured pigs, chickens & turkeys. All of the animals are rotationally grazed throughout the growing season. A variety of fresh & smoked cuts are prepared each week in their butcher shop, including fresh sandwich meats and sausages (using fresh herbs from our fields and 100% organic spices).
518.963.4169